"JACARANDA!"
"BB", as my mum was affectionately known when engaged in her vocation as a grandmother, could transform car trips during Sydney's riotous Jacaranda season into travelling 'I-spy-with-my-little-eye' festivals for her grandkids.
She had a knack for unearthing the wisdom within simplicity.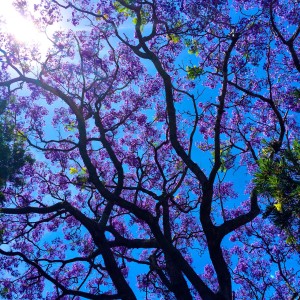 The game was easy enough; the first person in the car to see a riot of purple leaves blooming through the dirty car window had to yell "JACARANDA!".
It doesn't read like much, but trust me, get a 5 and a 3 year old ready to burst with a "JACARANDA!" on the way to the shops and you have yourself some joy and a worthwhile distraction.
You may also have yourself a lesson for life.
I've carried on the tradition with my kids, but we mostly do it on the bicycle. Starman (not his real name – I'm not famous enough for a name like that) on the front and Little Bird (see previous parenthesis) on the back scan Marrickville's realms of purple with their eagle eyes and wild surmise  ready to bust out a "JACARANDA!".
I know, it's simple stuff, but it's fairly enough to fill your heart to brimming.
This morning Little Bird and I zoomed down the path next to Henson Park with her sprouting "WEE's!!!!! and WOO HOO's!!!!" like a backyard sprinkler on a hot Sydney summer day. You can get up some speed next to the park here, transfer onto the cul-de-sac outside the tennis club and get in a few big arcing Giant Slalom-style turns before screeching to a holt for the red light on Sydenham Road.
We were hard into turn three when Little Bird, filled to the brim with "JACARANDA's!", Buganvilias, and Rainbow Lorikeets streaking across the blue summer sky, declared, 'this is the best day ever!'.
I was stressed about the day ahead, wrestling with emotions emerging from a conversation the night before, fighting the pit of anxiety in my stomach and suffering from jet lag. She was immersed in the world around her, happy to be on the bike with her dad and looking forward to the day ahead.
Lesson #1. Jacarandas are enough.
---
PS. lest anyone be labouring under the misapprehension that we are some kind of perfect family, that same pure zen Little Bird was spinning like a top on the kitchen floor screaming and crying "I WANT SOME RASPBERRIES!!" for 5 minutes straight around 6:30pm tonight. Jacarandas are enough? Not always.